Selenium – essential element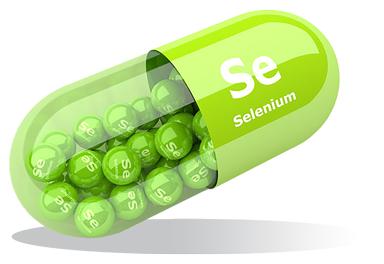 Selenium is a chemical element with the symbol Se and atomic number 34. It is a metalloid (more rarely considered a Non Metal) with properties that are intermediate between the elements above and below in the periodic table, sulfur and tellurium, and also has similarities to arsenic. It seldom occurs in its elemental state or as pure ore compounds in Earth's crust. Selenium (from Ancient Greek σελήνη (selḗnē) 'moon') was discovered in 1817 by Jöns Jacob Berzelius, who noted the similarity of the new element to the previously discovered tellurium (named for the Earth).
Selenium is a trace element. It occurs in the earth's crust at 0.05 ppm as an impurity in some sulfide ores. Selenium is one of the essential micronutrients and must be supplied in the diet. The content of selenium in food products varies greatly, which is associated with large differences in the selenium content of soil and water in different parts of the world. Soils in Poland are considered poor in selenium. Therefore, there is little selenium in water and plants, and consequently also little in the food consumed.
Selenium sources in food
The amount of selenium in food depends on on the selenium content in the environment (water, soil, plants) from which the food comes. The distribution of selenium (Se) in the earth's crust is uneven. Soils of some areas of Russia, USA, Venezuela contain very large amounts. Soils of New Zealand, some areas of China, West Korea, Siberia and Europe have very low concentrations. Selenium deficiency occurs in regions with sparse presence of rock materials. These include the northeastern soils of the USA, northern Germany, Denmark, Poland and the Baltic states, central Russia from the Urals to all of Siberia, inclusive. Se concentrations in volcanic rocks are estimated at 120 µg/g, soils contain 0.005-1200 µg/g, most often within the range of 0.1-10 µg. In regions poor in selenium, its concentration is at the level of 0.005–2.0 µg. Plants, drawing selenium from the soil, provide it to all organisms. For these environments, selenium is an important trace element, indispensable for proper functioning, it can also be a factor whose excess or deficiency causes undesirable effects. (Source: Advanced soil geochemical atlas of England and Wales Selenium in England and Wales UK Soil Observatory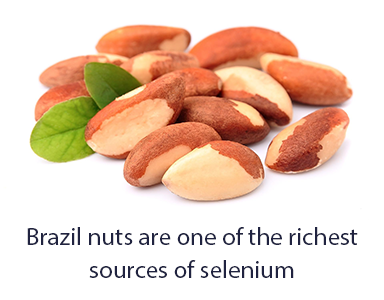 Food sources of selenium: cereals, meat, eggs, dairy products, fish and shellfish. Not all foods are a good source of selenium, because this element is not well absorbed in the digestive tract in every form. The basic role in bioavailability is played by the chemical form of selenium. Selenium obtained from yeast is characterized by the highest bioavailability. In addition, the absorption of selenium is supported by some proteins, amino acids and vitamins (mainly A, E, C). The synergistic effect of selenium with vitamin E contributes to delaying the aging process and accelerating cell regeneration.
Selenium content in selected foods
Type of Food
Selenium Content
in 100 Grams
Brazil nuts

2700 μg

Beef liver

124 μg

Yellowfin tuna

80 μg

Halibut

59 μg

Chia seeds*

54 μg

Herring

49 μg

Sunflower seeds

48 μg

Chicken brest

41,5 μg

Turkey

31 μg

Salmon

26 μg

Chicken egg, large approx. 65g

15 μg

Brown rice

8,5 μg

Mushrooms

7 μg
How much selenium do we need?
As with any element and vitamin, the amount of selenium we need depends on the following factors: (1) age, (2) physiological state, (3) health, i.e. diseases, etc., (4) diet (people following a meat-free diet are at higher risk of selenium deficiency). (5) where you live (some regions are more prone to selenium deficiency than others).
It is estimated that the UK lies in areas poor in selenium, which is why selenium deficiencies in the diet of English people are often observed. Therefore, selenium supplementation may be important in the English people diet, especially in the case of people with dietary restrictions (e.g. vegans and vegetarians), people suffering from chronic diseases of the digestive tract (such as Crohn's disease or ulcerative colitis) accompanied by impaired absorption and elderly people, as selenium absorption deteriorates with age. Smokers, alcohol drinkers and contraceptives may also be at risk of selenium deficiency.
The selenium requirement depending on age
Age
Daily selenium requirement
in µg
Infants up to 6 months of age

15 µg

Infants and and small children up to 9 years of age

20 µg

Children aged 10-12

40 µg

Children over 13 years of age

50 µg

Adult women

55 µg

Adult men

60 µg

Pregnant and lactating women

60 – 70 µg
---
*Salvia hispanica, one of several related species commonly known as chia, is a species of flowering plant in the mint family, Lamiaceae, native to central and southern Mexico and Guatemala. It is considered a pseudocereal, cultivated for its edible, hydrophilic chia seed, grown and commonly used as food in several countries of western South America, western Mexico, and the southwestern United States.
Moreover chia seeds contain valuable minerals for human health: iron, magnesium, zinc, phosphorus, as well as calcium and vitamins: E, B1, B3. Chia seed oil contains a very high concentration of omega-3 fatty acids - about 64%, as well as omega-6 fatty acids, which are in a beneficial for health and disease prevention ratio to omega-3.
Is selenium intake safe?
It is almost impossible to overdose on dietary selenium. But long-term use of too high doses of selenium supplements can lead to poisoning.
Toxic levels of selenium in the body (can cause a condition called selenosis) and can be the result of taking too much of this element in the form of supplements. If this happens, the following symptoms of poisoning may occur:
Pain in muscles and joints
Diarrhea, fatigue
Nail brittleness and hair loss
Metallic taste in the mouth
Skin redness
Respiratory problems
Increased risk of developing diabetes type 2