The COVID pandemic, which has recently been spreading around the world, raises justified concerns among those in power about its further effects and the fear of all of us of getting seriously ill. Unfortunately, we do not have drugs to combat the development of COVID-19. A vaccine providing immunity, despite declarations that it already exists, from various centers working on it, should not be expected earlier than spring. Basically, the only procedure we can currently apply is a number of social and hygienic restrictions, including home isolation. It is also worth supporting our immunity, after all, we have an effective immuno-supplement with proven effects.
The course of COVID-19 disease can vary greatly. Some infected people have no symptoms. In others, the disease may be so severe that they require mechanical ventilation. The risk of severe COVID-19 is increased in older people, people who have co-existing diseases of the circulatory system, respiratory system, weakened immune system, significant obesity or diabetes.
COVID-19 and Respiratory Diseases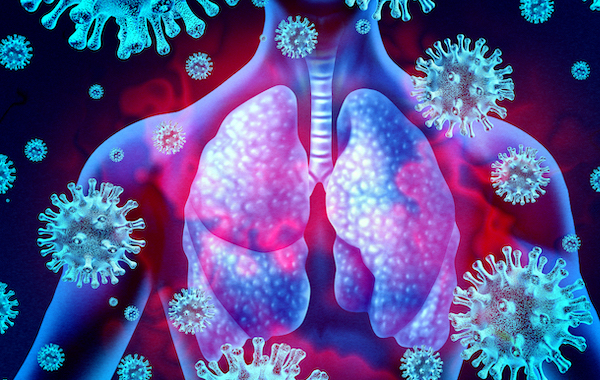 Because COVID-19 primarily attacks the respiratory system, the coexistence of respiratory diseases significantly increases the likelihood of a severe course of the disease. This risk increases significantly if the infected person has chronic obstructive pulmonary disease (COPD), which is one of the most common chronic diseases in general, and also the most common respiratory disease. Its incidence is estimated at over 50% among people over 65 years of age. In the initial phase, the disease is hidden and it is estimated that up to ¾ of patients may not know that they have COPD, and the risk of severe COVID-19 is very high.
COVID and cardiovascular diseases, diabetes, obesity
People with chronic serious diseases are more likely to develop serious symptoms if infected with COVID-19. This applies to diabetes, severe obesity and serious cardiovascular diseases.
Obesity promotes severe COVID-19. It is estimated that obesity occurs in approximately 1/5 of the Polish population and increases with age to up to 50% of all people. It usually appears earlier and more often in men.
Obesity is one of the risk factors for the so-called cytokine storm - the most severe complication in the course of COVID-19. Adipose tissue produces a number of pro-inflammatory cytokines that are released during the cytokine storm of COVID-19.
COVID-19 in older adults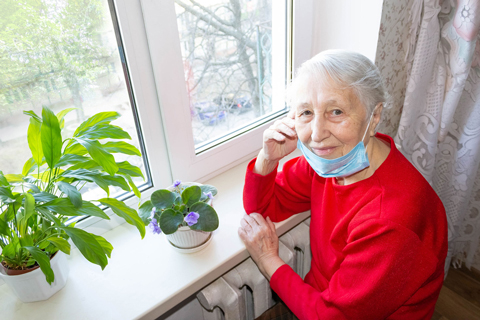 You can get sick with COVID-19 at any age, even small children are affected. The risk of developing dangerous symptoms increases with age. Eighty% of all people who died from COVID-19 were people aged 65 and over. The risk increases when advanced age is accompanied by comorbidities, which, unfortunately, is also age-related.
After the age of 60, most people have a significantly less efficient immune system, which may be reflected in its slower functioning and less effective response to virus infection. The consequence is a greater than average multiplication of the virus in the body of a sick person and the spread of inflammation to many organs, especially those that are sick and damaged as a result of a chronic comorbid disease. These phenomena, if not stopped early and effectively, can lead to severe respiratory failure and a deadly cytokine storm. That's why it's so important to take proper care of your immune system.
COVID-19 and the Immune System
The immune system is a complex, interdependent entity composed of white blood cells, antibodies, complex proteins, and many organs and systems. Some parts of the system act as literal barriers, preventing viruses and bacteria from entering organs such as the brain, while others hunt and remove invaders from the body. Although the immune system is effective against many diseases, microorganisms and viruses, it takes time to become familiar with the enemy. In many situations, it must be able to recognize the disease-causing pathogen as a threat before it is removed from the body. This is usually only possible if you develop certain antibodies after being sick or receiving a vaccine.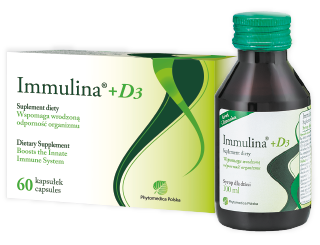 Many studies show that both post-vaccination immunity and post-illness immunity can and does vary from person to person. The duration of immunity and its scope vary from person to person. That is, from immunity that completely prevents re-illness to one that only alleviates the course of re-illness. This may be influenced by many factors, including: type of vaccines and boosters received. In the case of immunity after illness, the virus variant and the severity of SARS are important. The more severe the course, the higher the titer of antibodies produced and the longer their level persists. The health and condition of the immune system play an important role in the effectiveness and duration of immunity, whether post-vaccination or post-infectious. Therefore, it is worth taking care of a healthy and efficient immune system.
Immulina is a modern immunosupplement that effectively boosts our immune system. It provides two high-molecular immunoactive ingredients: beta-glucan from baker's yeast and a lipopolysaccharide complex from spirulina extract, which non-specifically stimulate the immune system. And as it turned out, the weaker our immune system is, the more effectively Immulina supports it. Additionally, Immulina also provides vitamins C and D and the elements zinc and selenium, which are necessary for the proper functioning of the immune system. The first effects of the beneficial impact of Immulina on the immune system are observed pretty quickly, after just a few days of its use.
The Impact of Covid-19 on Mental Health
One of the biggest global crises in generations, the COVID-19 pandemic has had severe and far-reaching repercussions for health systems, economies and societies. Countless people have died, or lost their livelihoods. Families and communities have been strained and separated. Children and young people have missed out on learning and socializing. Businesses have gone bankrupt. Millions people have fallen below the poverty line.
As people grapple with these health, social and economic impacts, mental health has been widely affected. Plenty of us became more anxious; but for some COVID-19 has sparked or amplified much more serious mental health problems. A great number of people have reported psychological distress and symptoms of depression, anxiety or post-traumatic stress. And there have been worrying signs of more widespread suicidal thoughts and behaviours, including among health care workers.
Higher levels of depression, anxiety, and insomnia were associated with the severity of COVID-19 infection in the acute phase, hospitalization because of COVID-19, and higher levels of post-COVID impairments and fatigue. Reduced motivation emerged as the strongest predictor for mental ill health.
Mental condition and the course of Covid-19
Poor mental condition has negative impact on course of COVID-19. People with mental health disorders could be more susceptible to the emotional responses brought on by the COVID-19 epidemic. The COVID-19 pandemic may adversely influence the mental health of patients with already diagnosed mental disorders. For the aim of dealing better with the psychological problems of people afflicted by the COVID-19 pandemic, new psychological procedures are required.